We also offer a professional hand coloring service on both antique maps and
engravings. Internationally known for this difficult skill, she can enhance
and bring to life even the dullest image.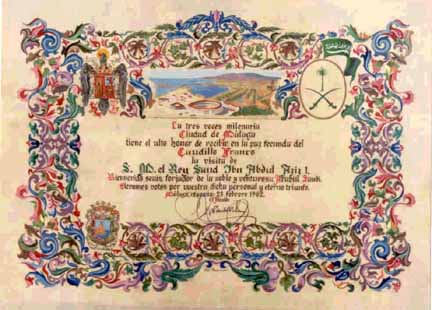 Illuminated sheepskin manuscript from the Saudi House of Fauod.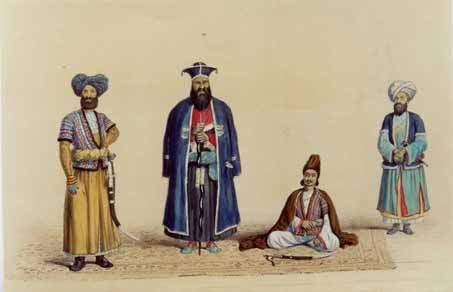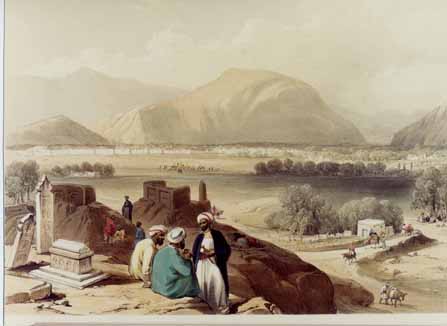 These two pieces are from David Roberts' views of Egypt circa 1840, part of a series of prints cleaned and colored for Prime Minister Margaret Thatcher. The pigments are authentic for the piece, having researched original colored copies in the British Library.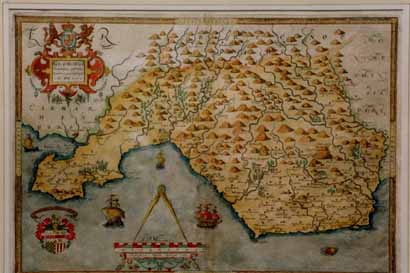 An Ortelius map, circa 1590. Abraham Ortelius was considered one of the first mapmakers to color his work. Thankfully, there is a lot of his work surviving so that research into his technique and pigments was easily accomplished at the British Library.
18th Century Dutch Tulips. Tulips were once so important to the Dutch in the 18th Century that they were once used as currency. Thanks to period textbooks and watercolors, research into the correct colors of flowers was very straightforward.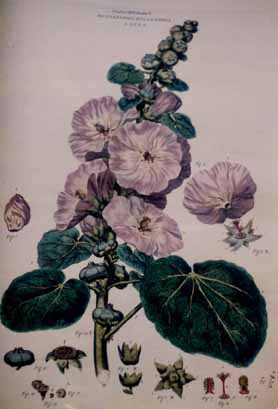 "Hollyhock", 1776, from Linnaeus' Sexual System of Plants. Research is needed on antique botanicals. The colors of some plants have been so altered by manipulation of generations of gardening that the original coloration is sometimes lost. These examples are true to the period and to the flower or fruit.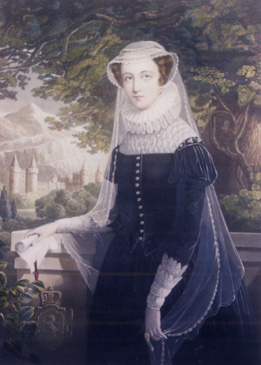 "Mary, Queen of Scots". Mezzotint,circa 1870.Cleaned, deacidified and hand colored.
| | |
| --- | --- |
| Before | Before |
| After | After |
"Victoria and Albert". Steel engravings, 3 feet by 2 feet, circa 1840. These show the newly crowned queen and her soon-to-be husband.These prints had been glued to the frame liners,backed with old canvas, and were torn and stained. Leonora had to very carefully dissolve the glue, taking care not to skin the margins of the print.The old canvas was removed successfully, and the prints were cleaned and deacidified. At the request of the client, they were then hand colored with water colors painstakingly researched from the original paintings so that all the colors were accurate.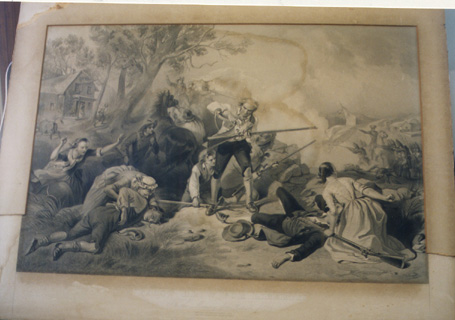 Before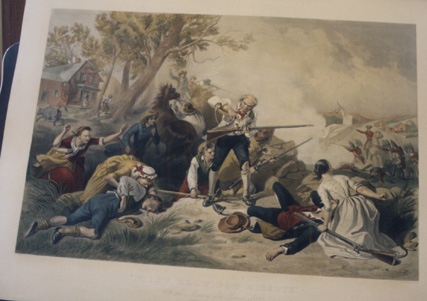 After
"First Blow for Liberty". Old, corroded mat had to be removed. As you can see from the first picture, there was significant acid damage. After many hours of careful conservation, the print came out beautifully clean.The client then asked for hand coloring, and Leonora researched the colors of the clothing and costumes so that accuracy of the time period was ensured.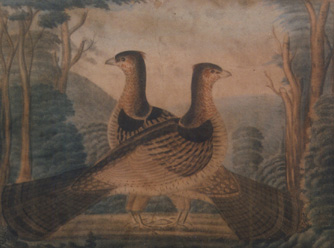 Before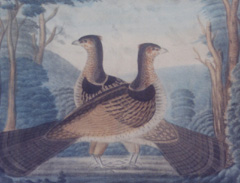 After
Game Birds. Early American, original hand coloring.Wood enrgaving mounted onto severely acidic cardboard, and in a previous accident had been split down the middle. Leonora removed it from the board,cleaned and deacidified it, and repaired the tear to near invisibility. She then mounted it with conservation paste onto acid-free heavy paper.